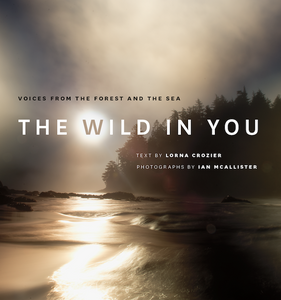 The Wild in You by Lorna Crozier and Ian McAllister
Regular price
Sale price
$19.00
---
A forest draped
    with moss and mist-
a softness,
    a quietude-
a good place to send the soul.
A testament to the miraculous beings that share our planet, The Wild in You is a first-time collaboration that combines images from one of the world's best nature photographers, and verse from a celebrated poet, to create a stunning snapshot of the Pacific Northwest.
Featuring 32 full-size photographs and original poems, the book captures the raw emotion of North America's northwest coast including its most rarely seen or endangered creatures. From sea wolves, to spirit bears, to giant anenomes and whip smart ravens, each photo is paired with an imaginative poem exploring what it truly means to be wild.
Using figurative language that blurs the lines between man, plant and animal, Crozier alters our understanding of each photograph – and wilderness itself – Through startling and accessible poetry. In the world of The Wild in You, sea lions are "nosey and dispassionate angels," jellyfish resemble "the thin wrap of plums," and "All the stars are fish," when viewed from the ocean's deepest, darkest depths.
At a time when expansion projects and fossil fuel developments threaten fragile ecosystems, The Wild in You acts as a witness to our enduring natural world, and provides a clarion call for the protection of the flora and fauna that diversify our beautiful coastline.
Lorna Crozier has received numerous awards, including the Governor General's Award, for her fifteen books of poetry, which include The Blue Hour of the Day, What the Living Won't Let Go, Everything Arrives at the Light, and Inventing the Hawk. She is also the author of the memoir Small Beneath the Sky and the editor of several anthologies. She lives in Saanich, British Colombia.
Ian McAllister is a co-founder of the wildlife conservation organization Pacific Wild. He is the author of multiple award-winning books including Great Bear Wild and a winner of the North American Nature Photography Association's Vision Award. He lives with his family in the heart of the Great Bear Rainforest.
Praise for The WIld in You
"The beautiful poems and evocative images come together as a single prayer for the wll being of every community and every form of life on the coast."
WADE DAVIS, Author of The Sacred Headwaters
"Together, Crozier and McAllister crystallize an ecosystem as powerful as the grizzly bear and as fragile as a crane fly's wing."
ELIZA ROBERTSON, Author of Wallflowers
REVIEWS
Natures Beauty, in images and words - Jeff Bell, Vicotria Times Colonist, Sept. 27, 2015